PFLAG Nashville is very grateful for this wonderful and amazing venture presented by the Just Us program of the Oasis Center:  TYME (Trans* Youth Meet to Empower)!
TYME is a monthly meeting for youth, age 14 to 18, who identify as gender fluid, gender queer, bi-gender, transgender, etc. and is held in conjunction with the PFLAG Nashville meetings, offering a space for the youth to express themselves through art.
While this project is not being presented by PFLAG Nashville, it is a program of the Oasis Center, the home of our monthly meetings, and their Just Us program!  We are incredibly proud of the amazing work that the Oasis Center does, and we couldn't image a better home for PFLAG Nashville.
So, if you know a 14 to 18-year-old who might be interested in the TYME program, check out the flyer below and come to a meeting, the third Tuesday of each month (except December).  You can also check out the "our meetings" page of this site for general information about our monthly support meetings, as well as directions to the Oasis Center.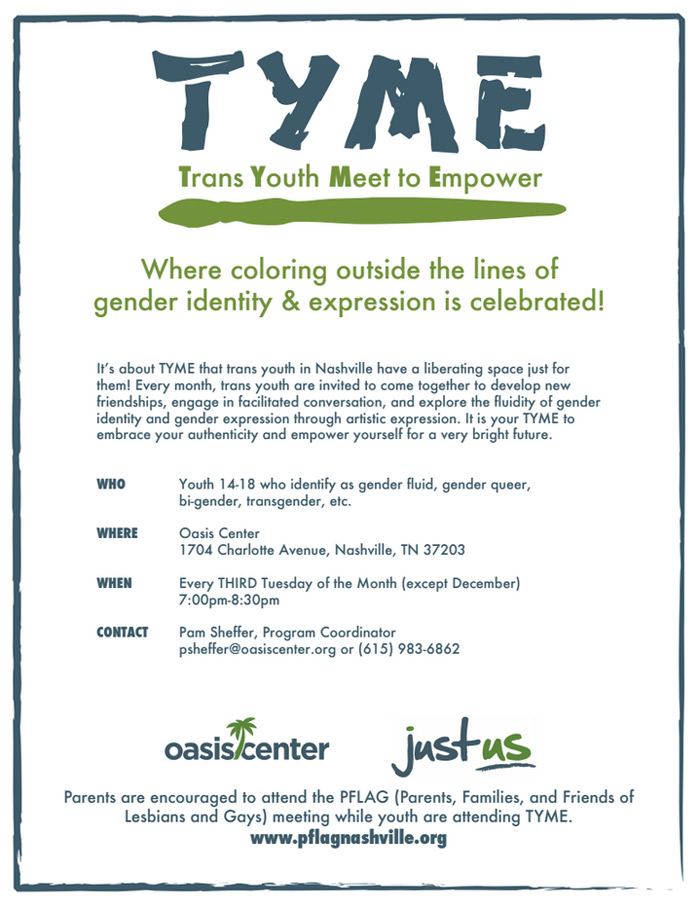 If you have any questions about the TYME program, contact the program director, Pam Sheffer, at psheffer@oasiscenter.org.