PFLAG // Blog // Parenting with PRIDE
June 16th, 2015 | Posted by PFLAG Nashville
June is Pride Month across the United States, and this year is even more special as we await the decision of the Supreme Court on the same-sex marriage cases currently before them (which include Tennessee).  If you've heard any of the oral arguments or read any briefs, you may know that the opposing side is basing most of their case on the idea that same-sex couples cannot "naturally" give birth, and that child rearing is the main reason states offer marriage to opposite-sex couples… to keep them together "for the sake of the children." 
For this month's blog entry, we asked PFLAG Nashville members Nathan and Daniel to share their story of their recent adoption.  We think you'll find that while these two men were not able to "naturally" give birth to their son, the love, support, and family they give him is as natural as could be.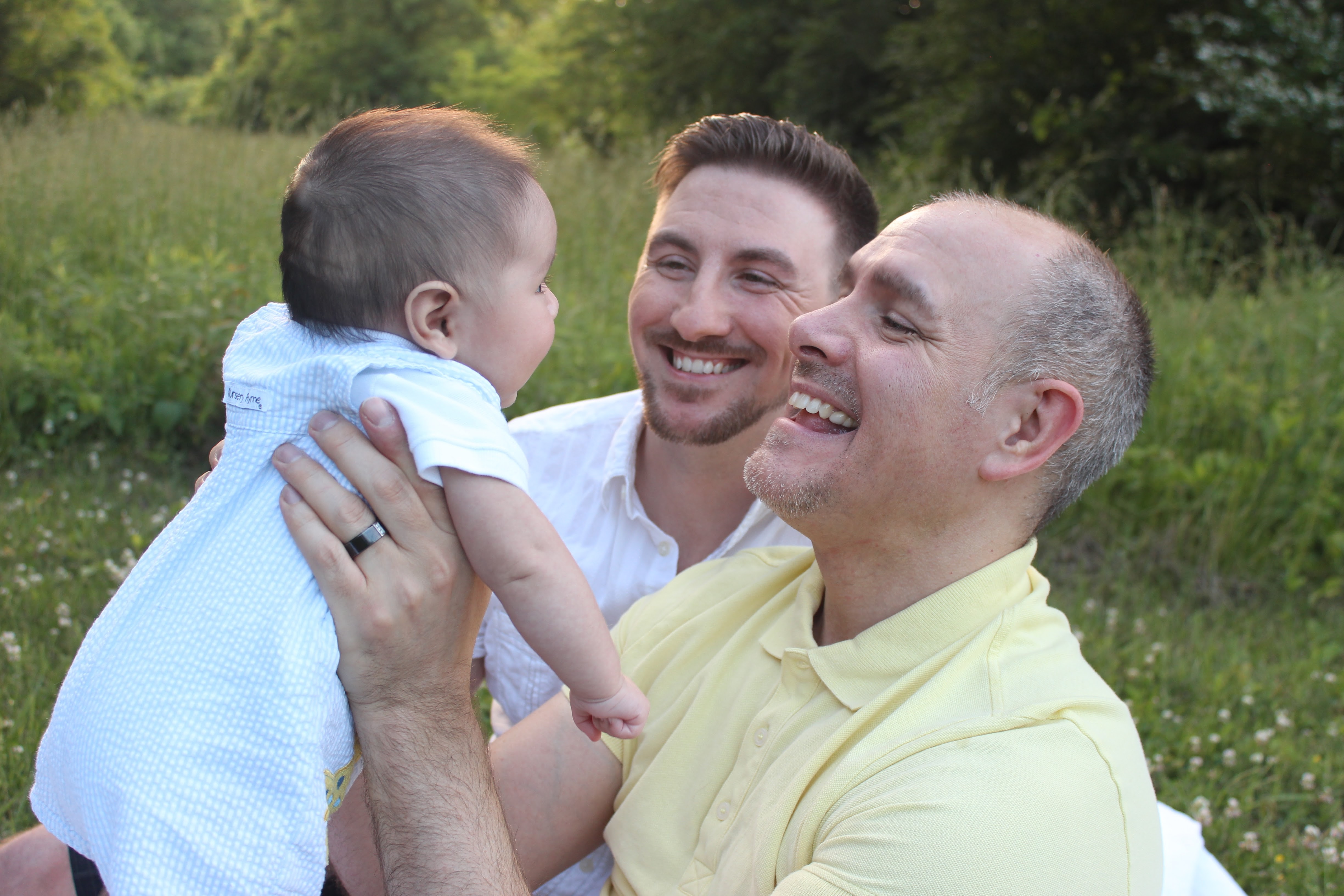 My name is Nathan, I'm a gay man, and I'd like to share the story of the journey my husband Daniel and I took to adopt our baby. There are many LGBT people out there who believe they can't have a "normal" life. They can't be married, they can't start a family. I'm here to tell you that you CAN. Here is our story to provide some inspiration.
It was a lonely winter day. Daniel and I had been trying to adopt for three years and we were discussing the option of ending the search. It would be a difficult decision, but we didn't feel we had the energy to keep trying. I decided to take the day off and wander around some stores to get some retail therapy.
 I was standing in the aisle of a store when I heard two women talking. They each had a baby in their carts and they'd stopped to admire each other's child. "How old is she?" one would ask. "Oh, look at the beautiful curls," the other would say. They exchanged stories and basked in the warm glow of parenthood. My heart sank into my chest.
That will never be me, I thought to myself.
I moved on to the next store and passed a man who was holding his little boy's hand as they walked along. I wanted to stop the man and tell him how lucky he was. Something so simple as feeling those tiny fingers wrapped in his palm. It would mean everything to me if I could have that too.
I went home to stew in my misery. Retail therapy had not been therapeutic at all. I didn't understand how the world could have so many children in it, yet none were meant to be ours. Was being a father just not meant to be part of my life plan?
Three days later, at 10:30 on a Saturday night, my husband and I received the call that changed our lives. It was our adoption agency. They had presented a collection of photo books to a mother and she had chosen us to be the adoptive family for her newborn child.
The baby was out of state and it would be two days before we could get a flight there. By then, the parental rights would be transferred and the baby would just be there alone in the hospital without any parents. We couldn't let that happen.
In a caffeine-fueled frenzy, we threw some bags into my car and started out on a fifteen hour drive, taking turns napping throughout the night and only stopping briefly for food, fuel, and bathroom breaks.
I was strangely skeptical for about twelve of those fifteen hours. It just seemed too good to be true. A woman comes into a hospital, gives birth, looks at some photo books and chooses us.
Nah, it couldn't be real. We'd had three years of dead ends. Things would be going well, it would look like an adoption was going to happen, and then something would fall through at the last minute and all our dreams would be shattered. It happened over and over again. I refused to believe this time would be different.
That's when fate stepped in to shut me up. Daniel was driving and I was looking out the window, worrying what was going to go wrong. Both of our phones chirped at the same time and I looked at mine to see the preview.
It was a photo of our sleeping baby boy.
Tears swelled in my eyes and spilled down my cheeks. "This is our baby," I said. "It's really him."
The cynic in me was silenced. I could feel it in my heart when I saw our baby's face. He'd come into this world to be ours.
I'll never forget the way I felt when I first held our baby at the hospital. He grabbed my finger with his tiny hand. I was overwhelmed with love. "We're your daddies," I told him as I caressed his cheek. He responded with a smile.
The process was amazingly smooth. It was a welcomed relief after years of disappointment. We brought our baby home and started our journey as a family.
And that's our story.
I share this because it's so important for members of the LGBT community to know they can be married and have a family if they want to.
There are people out there who disagree. They're trying to send the message that a "normal" American family is a husband and wife. If you don't fit this template, according to them, you don't deserve to be married and start a family. This simply isn't true.
Families come in all shapes and sizes, colors, genders, and orientations. Family is love.  That's all there is to it. If you love someone and want to marry them, you should. If you want to raise a child with this person, you should.
I encourage everyone out there to follow their hearts to the life they've always wanted. You deserve happiness.
"Be yourself. Everyone else is already taken" — Oscar Wilde
-Nathan and Daniel – PFLAG Nashville members